Beijing
Exhibition: Blue, Shells, Urushi – Shinya Tanoue Contemporary Ceramics – in China
18 December 2020 – 29 January 2021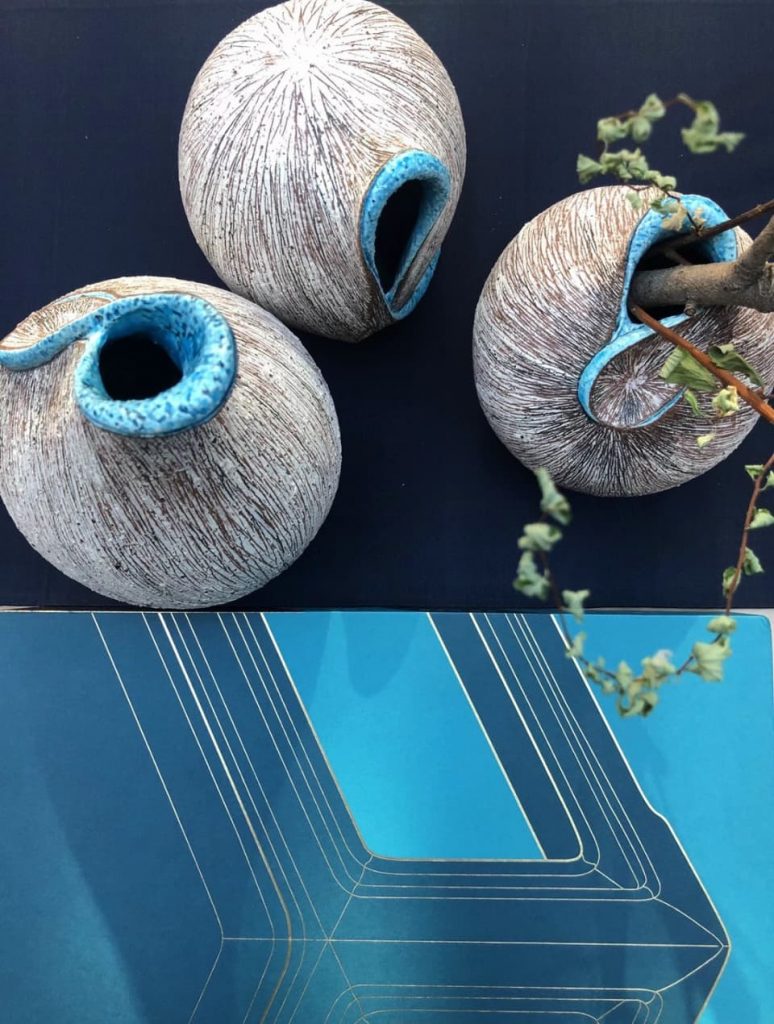 Venue:                   

POLY TIME MUSEUM
No.298 Gulou East Street, Dongcheng District, Beijing, Beijing, China

Dates and Times:   

18 December 2020 – 29 January 2021
10:00-17:00 (Monday to Friday)
The exhibition title is "Blue, Shells, Urushi – Shiya Tanoue Contemporary Ceramics" and is being held at Poly Time Museum in Beijing.  This exhibition is jointly organized by Oriental Poly, Beyond time, wamono art, No. 55 Art Space, and Tanya.
The number of works is 31, and in addition to his prominent "Blue Series", a new "Urushi Series" is revealed to the public for the first time outside Japan.
For this exhibition, Tanoue talks about "Blue", "Shells" and "Urushi":
"Blue"
From deep blue seas to soaring blue skies:
the land on which we stand is enfolded in these two blues.
The blue of the sea, evoking life emerging from primeval oceans.
The blue of the sky, with its sense of life ending and going to its final destination.
Blue is the color that brings out the viewer's perceptions of life and death.
"Shells"
Eggshells, seashells, seed shells (husks):
Shells go hand and hand with the growing of life.
Shells created by lives within.
Shells broken, in their bid for the outside.
There are sturdy shells of many layers,
and fragile shells, delicate and fleeting.
Shapes that swell from inside to out.
Shapes that sink from outside to in.
Shapes formed by me and the clay.
My works may not have the shapes of living things, but they have a profound connection to life.
"Urushi"
Urushi lacquered ceramic pieces have been around for centuries. Drawn by a different type of allure to glaze, people have long painted and polished Urushi on pottery. A technique employed since the Jomon period, lacquer-coating of ceramic ware was performed to stop pottery clay, with its propensity to absorb moisture, from leaking or being damaged by humidity. Not done for decorative reasons, I suppose it could be described as the incarnation in which a piece achieves its purpose, its realization as a vessel.
The decoration that comes once realization as a vessel is achieved is fresh to me now, and I am liberated from any adherence or attachment to color.
The appearance of Urushi that I saw, emerging in coexistence with clay, is unlike glaze as it is very soft and warm, almost akin to living flesh. I create lacquer-coated ceramic pieces in the hope that they will serve as a cradle, cocooning the viewer.
– – – – – – – – – – – – – – – – – –
Poly Time Museum was established in 2016 and the museum has exhibited its own collections and Poly Art collections in the past. This is the first time for the museum to cooperate with an overseas gallery to hold an exhibition. This exhibition will be a window and opportunity for dialogue between Japanese contemporary ceramics and Chinese contemporary ceramics.
– – – – – – – – – – – – – – – – –
Images by No. 55 Art Space