Hong Kong
Exhibition: BAMBOO AND BEYOND – Jin Morigami First Solo Exhibition in Asia –
21 May – 18 June 2022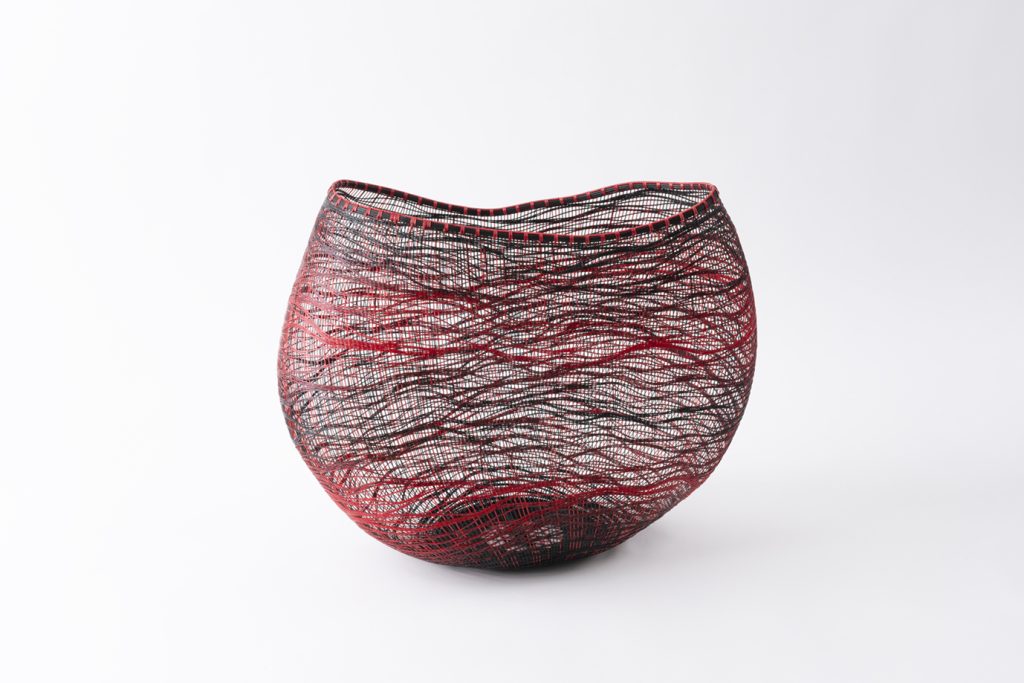 Venue:

wamono art at WerkRaum, Unit A, 10/F, Derrick Industrial Building, 49 Wong Chuk Hang Rd

Dates and Times:

21 May – 18 June 2022
Friday & Saturday: 12:00 – 18:00
Monday to Thursday: By appointment (WhatsApp + 852 6822 2962)
wamono art is proud to announce BAMBOO AND BEYOND, a solo exhibition by Jin Morigami, one of the most prominent Japanese bamboo artists of our time. Structured around the artist's two signature series of Nawame ami (Twining plaiting) series and Mutsume ami(Hexagonal plating) series, this exhibition brings together for the first time in Asia the comprehensive works of Jin Morigami.
Internationally admired and collected, Jin Morigami (b. 1955, Japan) was born to several generations of bamboo-craft families. Surrounded by the bamboo crafts, it was very natural for him to start playing with and eventually crafting bamboo as young as three years old, and by now he has more than sixty years of experience. While the length of his career in bamboo art is exceptional, Morigami is known to have devoted his life to creating many varied bamboo works. Over the years, he has become one of the most skillful bamboo artists in Japan. His achievements, however, are not only in his skill, but in taking his bamboo works beyond mere craft. To pursue his aesthetic, Morigami is not hesitant to turn away from traditional styles and accept unprecedent challenges. Morigami shed the traditional bamboo styles of heaviness and thickness. He has created a completely new style which is characterized by translucency and lightness. This can be especially seen in one of his signature series, Nawame ami. Asked about this series, he mentioned that "I want to be in the state of being open and free minded towards things". The very open spirit of Morigami towards his creation together with his skills made it possible to reach the level of fine art.
His fame reached its highest point when one of his Nawame ami works was added to the permanent collection at the Metropolitan Museum of Art, USA in 2010 as the first contemporary Japanese bamboo artist represented. However, Morigami is not driven by where his works are collected and exhibited. He is a person who is solely driven by his inner artistic interests. Morigami said "I wanted to try something completely different from Nawame ami series". He started to work on Mutsume ami series which requires one of the most difficult techniques in bamboo weaving even for seasoned artists. He continued "when I am working on Mutsume ami series, it is like solving very difficult puzzles". The challenge of Mutsume ami series lies in its shape. The repetition of simple geometrical patterns of Mutsume ami series looks like it easily leads to any forms the artist wishes to bring. The formation of Mutsume ami is free from any boundaries or limitations set by bamboo as a material. In reality, the formation of Mutsume ami series is very complex. Morigami describes how he works on Mutsume ami : "I start with only a rough idea of the shape, I don't know where the bamboo takes me until I complete the work". Despite this struggle, viewers will not see any traces of the battles between the artist and bamboo in this beautiful work – it only shows how Morigami even goes beyond the boundaries of bamboo and create forms freely, which truly reflects Morigami's spirit.
---
Biography
1955
Born in Oita, Japan
1978
Entered Oita Prefectural Bamboo Technical Training Center, Oita, Japan
1979
Oita Prefecture Assembly Chairman's Award, Oita Prefecture Industrial Crafts Exhibition, Oita, Japan
1982
Fukuoka Industrial Commerce Director's Award, Beppu City New Bamboo Craft Art Exhibition, Oita, Japan
1988
The 20th Nitten (Fine Arts Exhibition), Japan
1994
Winner, Kyoto Craft Biennale, Kyoto, Japan
2004
Second Prize, The 3rd Coten Bamboo Prize
2006
Hin: The Quiet Beauty of Japanese Art, Grinnell College, IA and Chicago Cultural Center, USA
2007
The Next Generation, Asian Art Museum, San Francisco, USA
2008
New Bamboo: Contemporary Japanese Masters, Japan Society, New York, USA
2011
Beauty in All Things: Japanese Art and Design, Museum of Art & Design, New York, USA
2013
Birds in the Art of Japan, The Metropolitan Museum of Art, New York, USA
Fired Earth, Woven Bamboo, The Museum of Fine Arts, Boston, USA
2018
Febdre L' Air, Musee du Quai Branly Jacques Chirac, Paris, France
2020
Masterpieces of Bamboo Art: Katsushiro Soho and Fujinuma Noboru, Tochigi Prefectural Museum of Arts, Tochigi, Japan
Public Collections :
Metropolitan Museum of Art, New York, USA
Museum of Fine Arts, Boson, USA
Museum of Arts and Design, New York, USA
Asian Art Museum, San Francisco, USA
Los Angeles County Museum of Art, USA
Denver Art Museum, USA
Philadelphia Museum of Art, USA
Oita Prefecture Art Hall, Japan
Beppu City Traditional Bamboo Craft Art Museum, Japan