Tokuzo Shono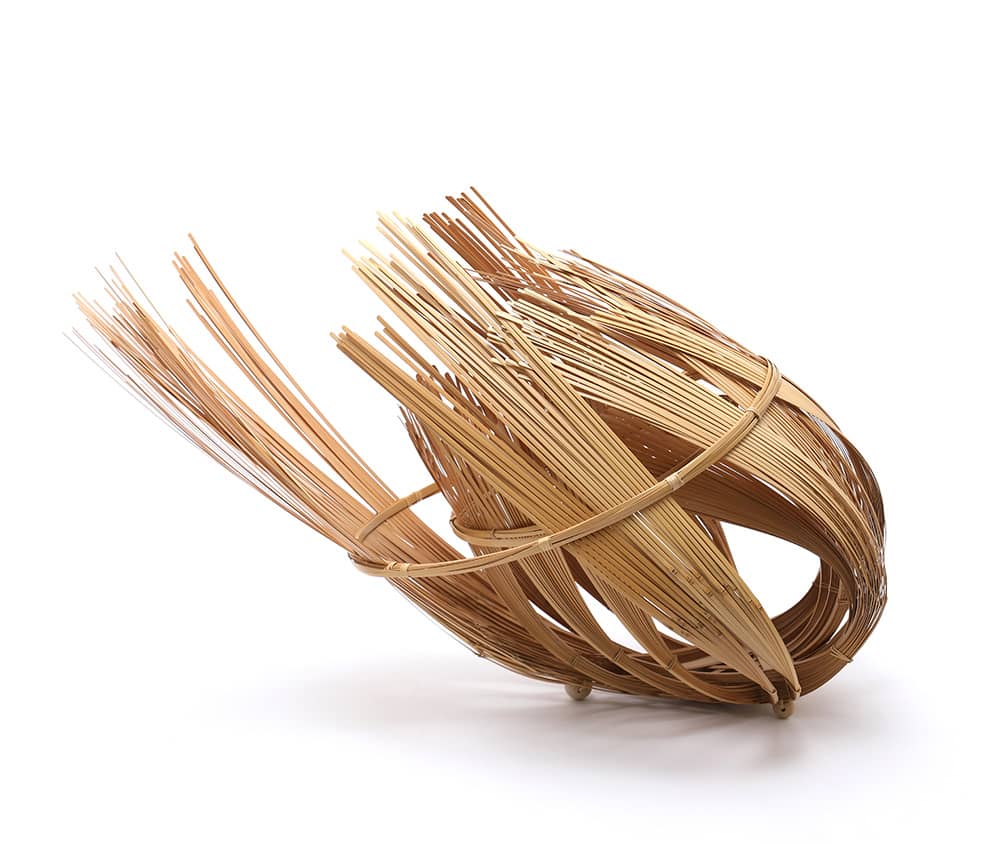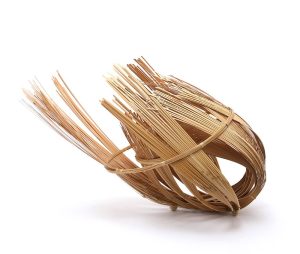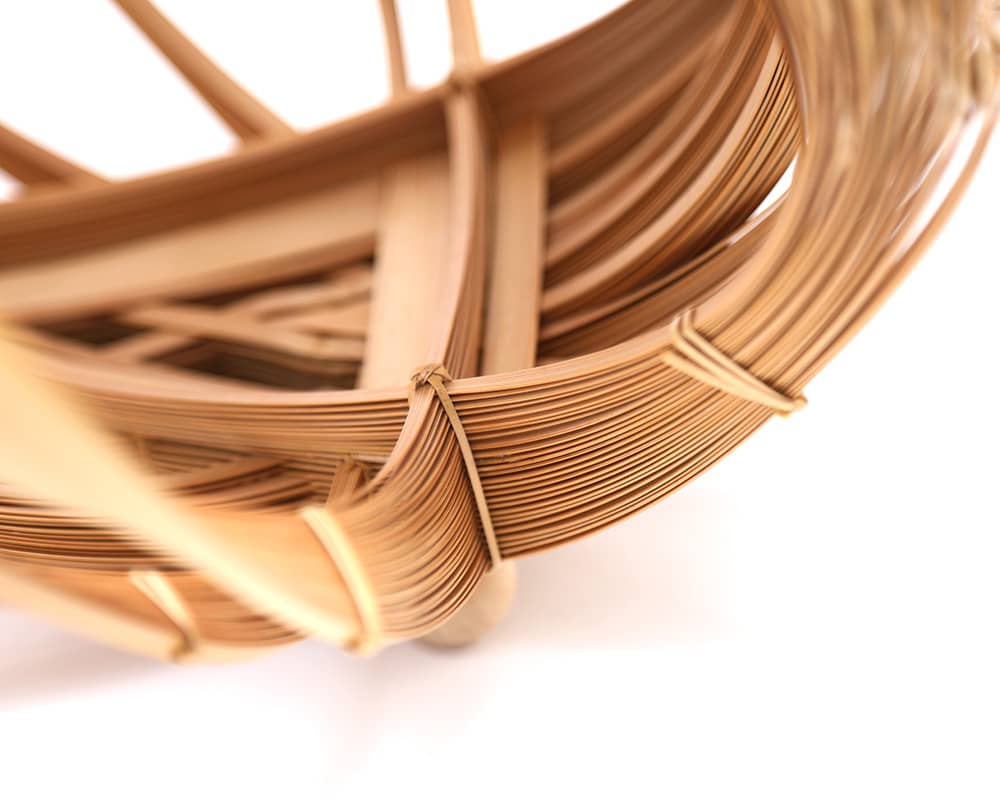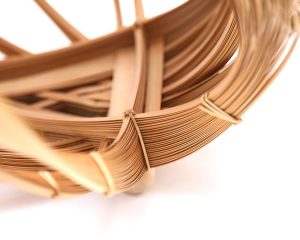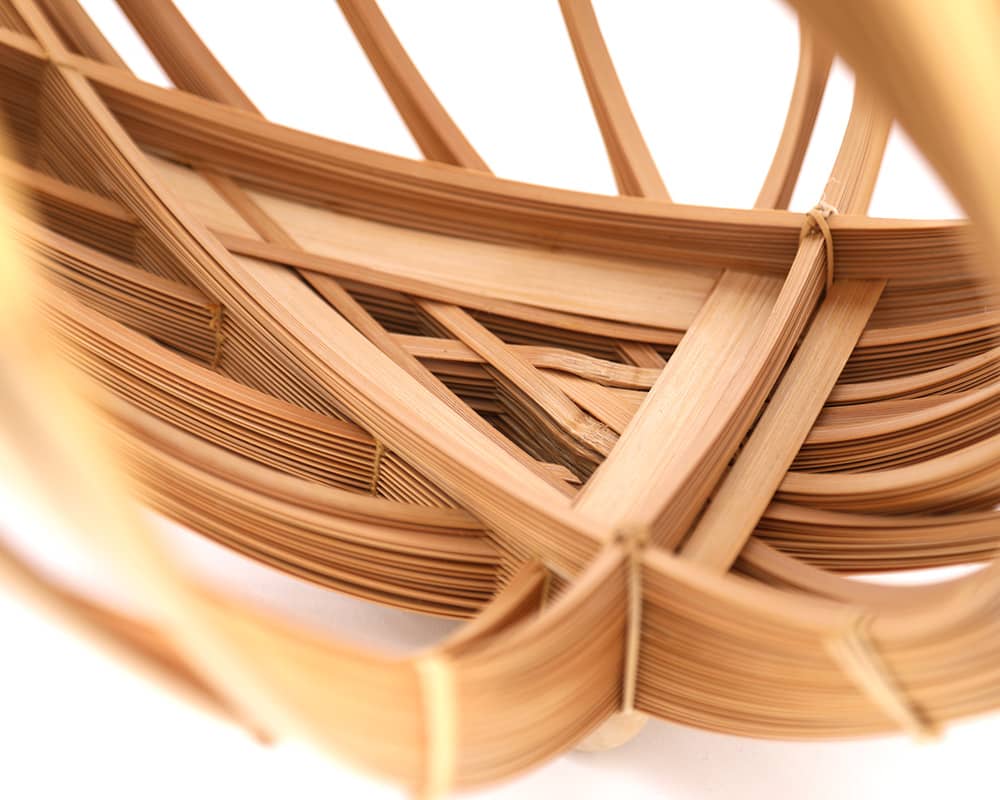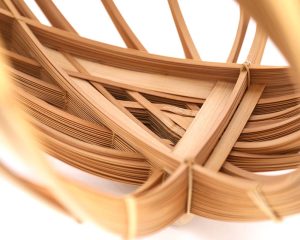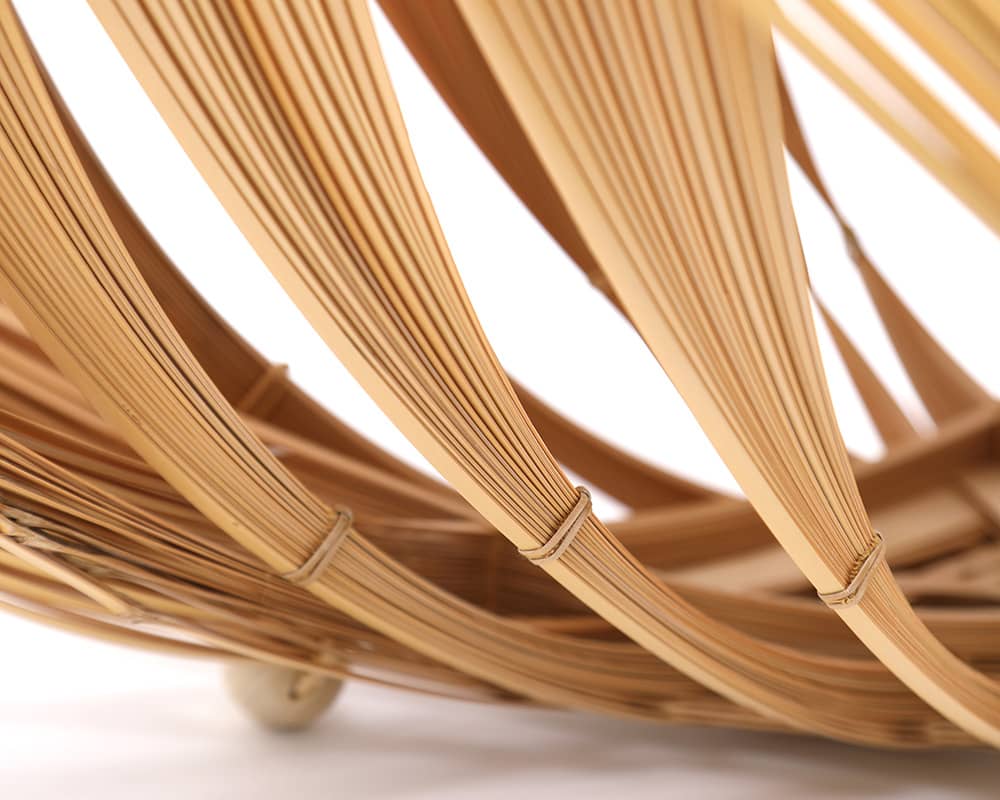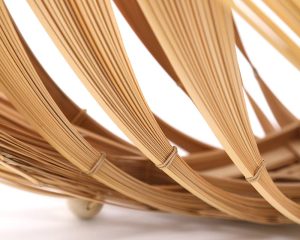 Flow, 2019
Bamboo (Madake), rattan H 50 x 80 x 35 cm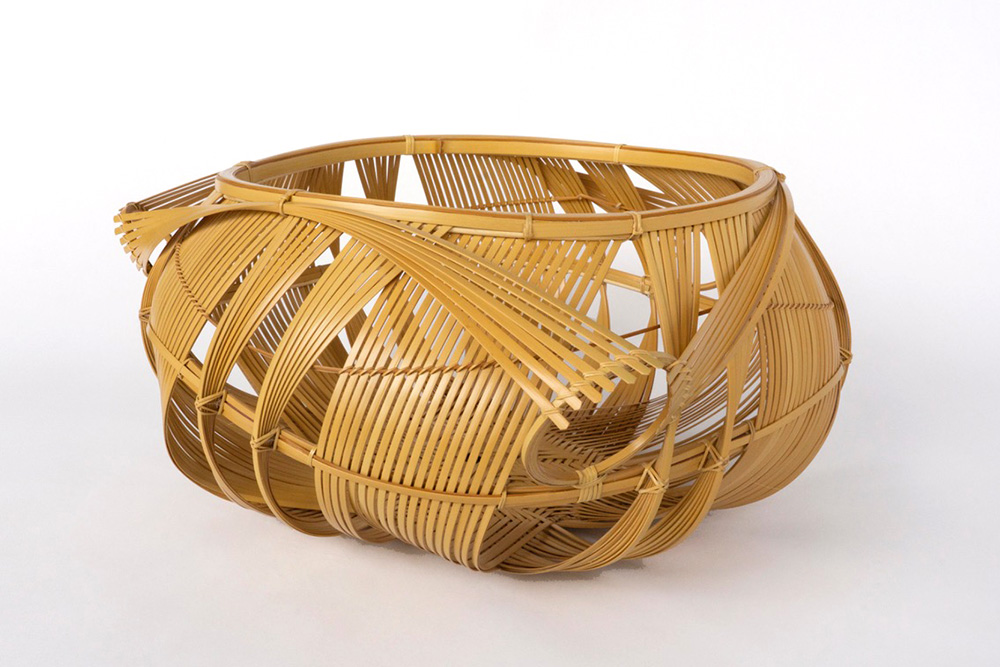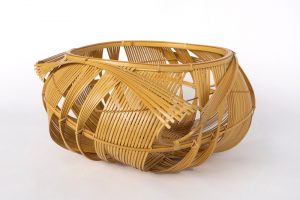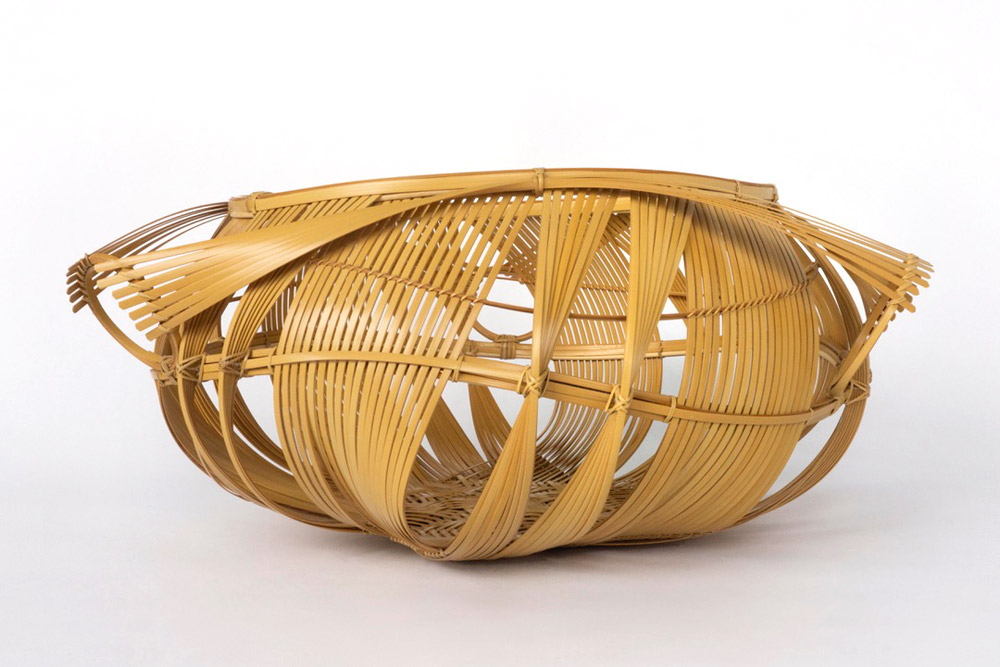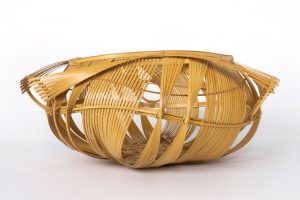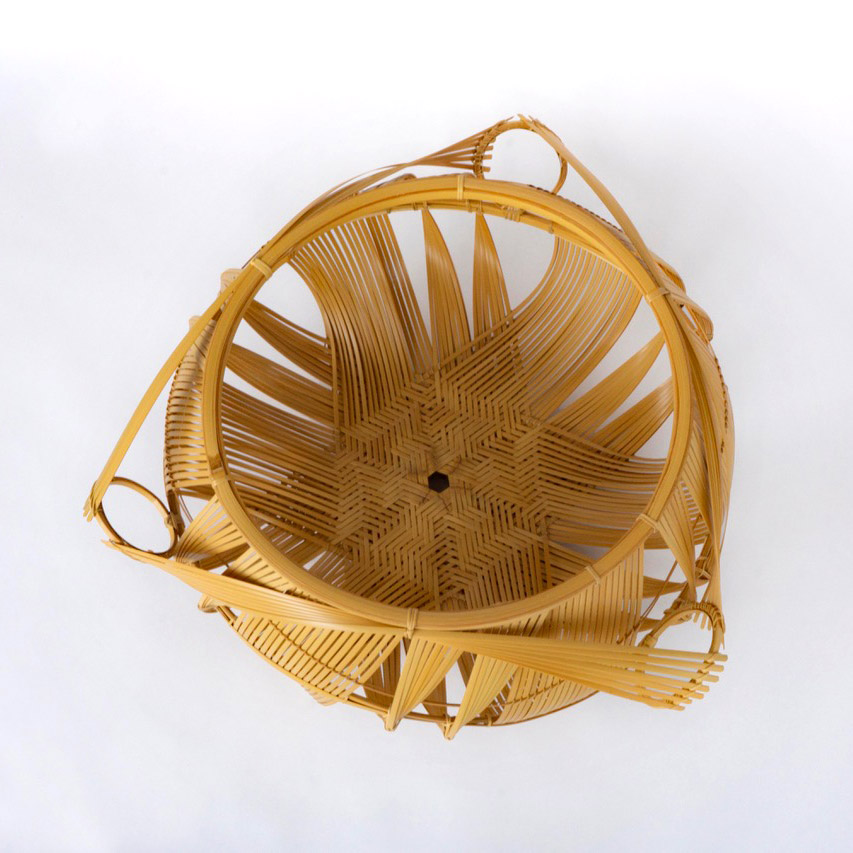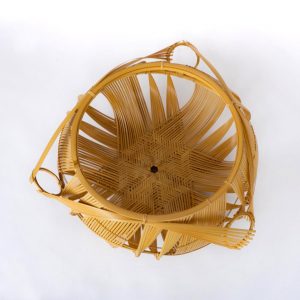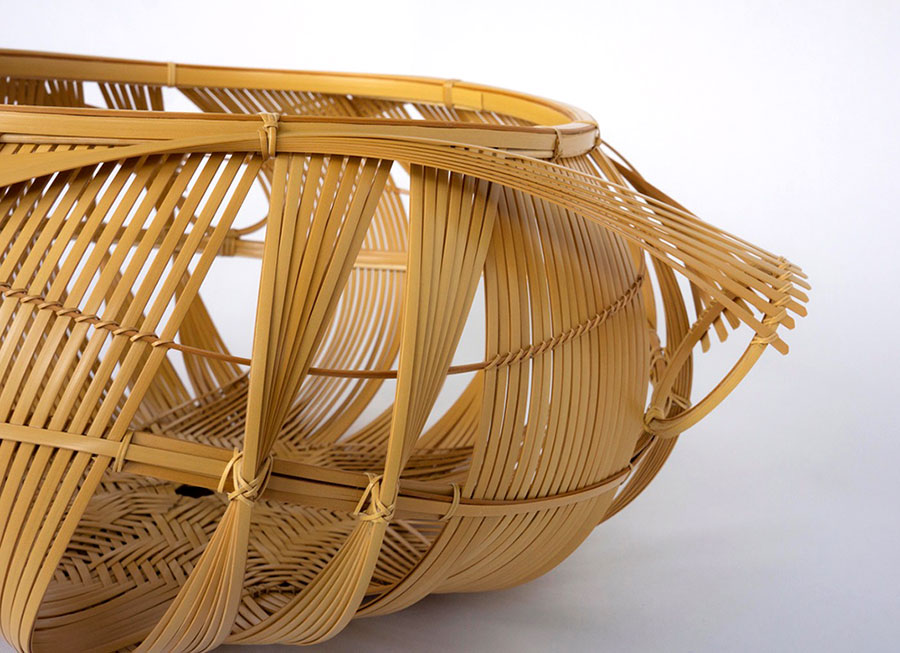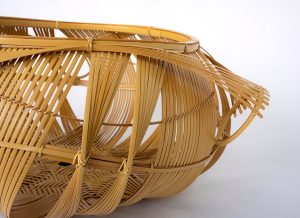 Light and wind, 2018
Bamboo (Madake), rattan
H 23 x 51 x 52 cm

Tokuzo's father, Shounsai Shono (1904-1974), was the first ever person to be designated as a living national treasure in bamboo art. He was the first artist to create sculptures using the beauty of bamboo. After graduating in the sculptural arts at Musashino Art University in 1964, Tokuzo became a student of his father Shounsai, and inherited the aesthetics and technique of Shounsai.
His technique is to select the bamboo from his own bamboo grove, then cut, dry and leach out the oil and sugar content by heating. The preparation takes more than two years before the bamboo can be used, taking advantage of natural processes. This work works well with the beauty of the bamboo material and the characteristics of its flexibility. If the direction of the wind changes, the form of any one piece of bamboo can change the way the artist will then use that piece.
The works of Tokuzo Shono are housed in the Victoria & Albert Museum, the Metropolitan Museum of Art, the Museums of Fine Arts, Boston.
Tokuzo Shono
Biography
1942

Born in Oita, Japan

1964

Graduated in the sculptural arts at Musashino Art University, Tokyo, Japan
Studied under Shounsai Shono, Bamboo Artist

1974

Started as an artist after Shounsai's death

1979

The 11th Nitten Exhibition, Tokyo Metropolitan Art Museum, Tokyo, Japan (Since then his work is accepted by Nitten Exhibition every year)

1980

The 2nd Japan New Craft Arts Exhibition, Tokyo Metropolitan Art Museum, Tokyo, Japan (Since then his work is accepted by Japan New Craft Arts Exhibition every year)

1990

Member Award, The 12th Japan New Craft Arts Exhibition , Tokyo Metropolitan Art Museum, Tokyo, Japan

1993

Member Special Award, The 15th Japan New Craft Arts Exhibition , Tokyo Metropolitan Art Museum, Tokyo, Japan

1996

Nippon Breadcasting System Award, The 22nd Japan New Craft Arts Exhibition , Tokyo Metropolitan Art Museum, Tokyo, Japan

1998

Tokusen Award, The 30th Nitten Exhibition, Tokyo Metropolitan Art Museum, Tokyo, Japan

2001

Shapes Have Nuances - Tokuzo Shono Exhibition, Oita Art Museum, Oita, Japan

2008

New Bamboo: Contemporary Japanese Masters, Japan Society, New York, USA

2013

Fired Earth, Woven Bamboo: Contemporary Japanese Ceramics and Bamboo Art, Museum of Fine Arts, Boston, USA

2015

Opening Exhibition vol. 1 "Modern: Blossoming Garden – Oita World Museum – Oita & World 200 Masterpieces", Oita Prefectural Art Museum, Oita, Japan

2016

Minister of Education, Culture, Sports, Science and Technology Award, The 38th Japan New Craft Arts Exhibition, The National Art Center Tokyo, Tokyo, Japan

2017-18

Japanese Bamboo Art: The Abbey Collection, The Metropolitan Museum of Art, New York, USA

2019-20

Japanese Bamboo Art from New York: The Abbey Collection. Gifts to the The Metropolitan Museum of Art, Oita prefectural Art Museum, The National Museum of Modern Art, Tokyo Crafts Gallery, The Museum of Oriental Ceramics, Osaka, Japan

Public Collections :

Victoria & Albert Museum, UK
The Metropolitan Museum of Art, USA
The Museum of Fine Arts, Boston, USA
Asian Art Museum, San Francisco, USA
Muzeum Sztuki i Techniki Japonskiej Manggha, Poland
Oita Prefectural Art Museum, Japan
Oita Art Museum, Japan