Yukito Nishinaka
>

YOBITSUGI : 'Beauty in Imperfection' Flame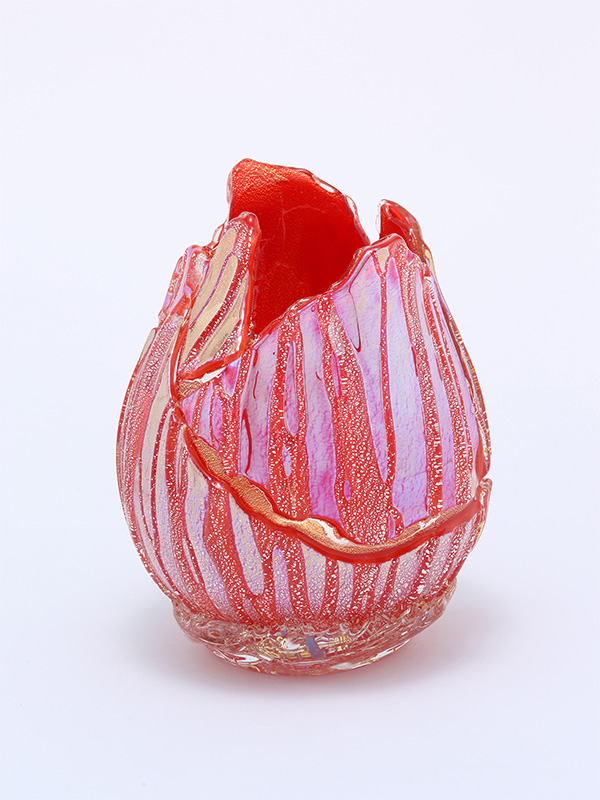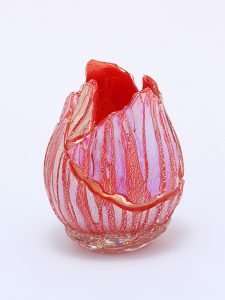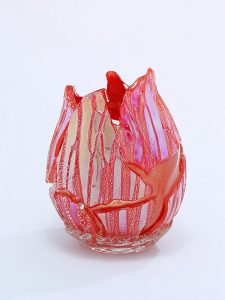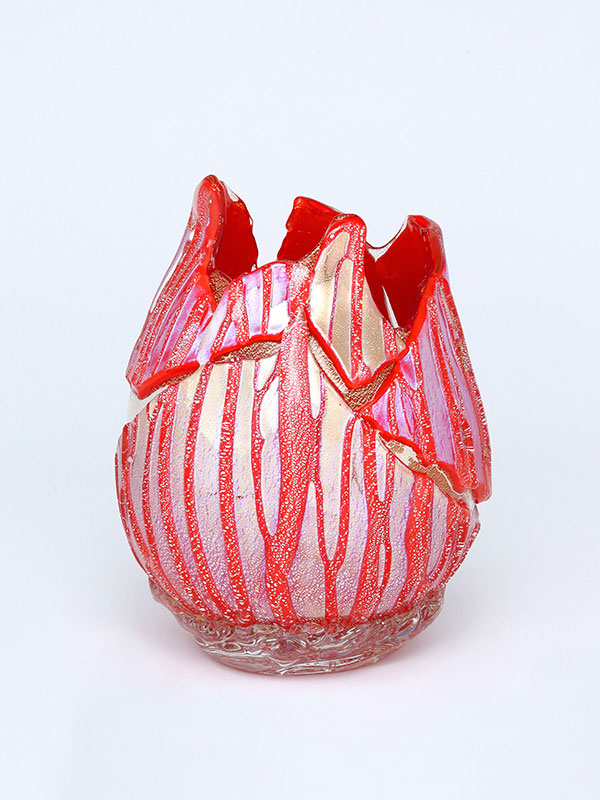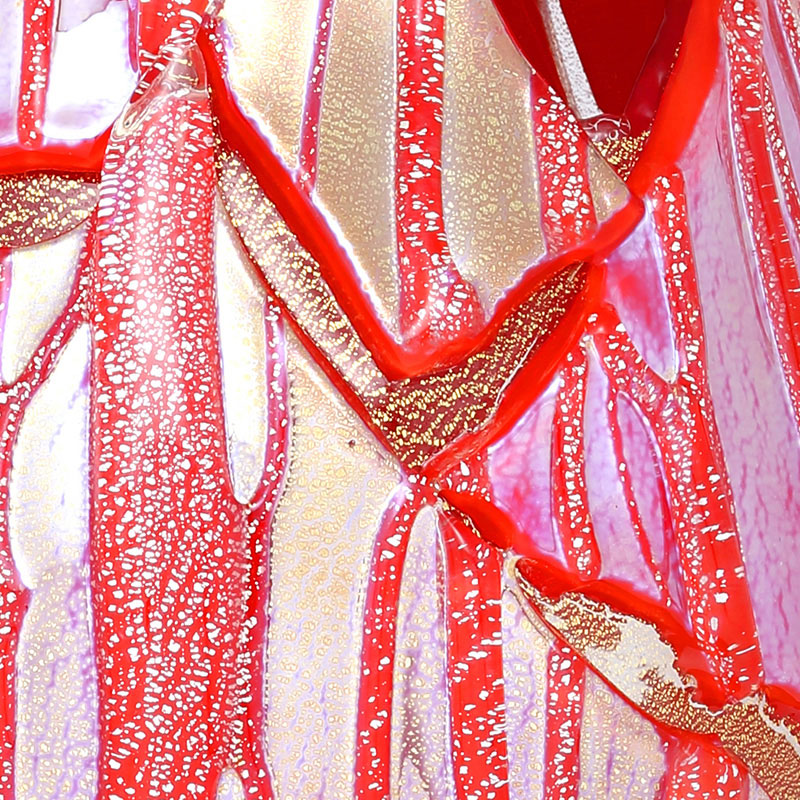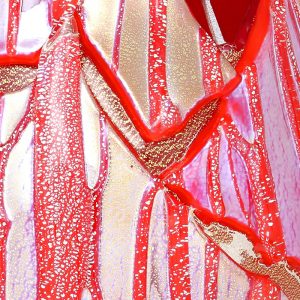 YOBITSUGI : 'Beauty in Imperfection' Flame, 2017

Sold

Glass, gold leaf, silver leaf
H 26 x 19.5 x 19.5 cm

I am thinking of the old time when Japanese people found beauty in the fatal cracks on pottery. During the age of provincial wars, Samurai enjoyed tea in the middle of life or death fights. I often wonder what Samurai wanted to express by highlighting cracks with gold. With my own interpretation, I pursue the beauty of cracks based on the spirit of imperfect beauty. I smash the vase I have created and melt, then bond again. I express the blink of life with the fragility and strengths of glass.
Yukito Nishinaka
Biography
1964

Born in Wakayama, Japan

1983

Entered faculty of Pharmaceutical Sciences, Hoshi University of Pharmacy, Tokyo, Japan

1986

Studied Chinese Literature, Northwest University, Xi'an, China

1988

Graduated faculty of Pharmaceutical Sciences, Hoshi University of Pharmacy, Tokyo, Japan

1989-90

Worked at Kagami Crystal Co., Ltd., Tokyo, Japan

1991-94

Studied art of sculpture and glass, California College of the Arts, California, U.S.A.

1994

Art Now Kanazawa: 33rd Hokuriku Chunichi Art Exhibition, Ishikawa Prefectural Museum of Art, Ishikawa, Japan

1995

Glass in Japan, Museo de Segovia, Segovia, Spain

1995-97

Teaching Assistant, Toyama City Institute of Glass Art, Toyama, Japan

1997

Grand Prix, 1st Contemporary Glass Exhibition in Satsuma, Satsumacho Glass History Museum, Kagoshima, Japan
Art Now Kanazawa: 36th Hokuriku Chunichi Art Exhibition, Ishikawa Prefectural Museum of Art, Ishikawa, Japan

1998

Established Yukito Nishinaka Studio, Chiba, Japan

1999

5th Feeling of Beauty- Kogei Exhibition, Takashimaya, Tokyo, Yokoyama, Osaka and Kyoto, Japan
Glass '99 in Japan – Splendor of the Unknown, Odakyu Museum, Tokyo, Japan

2000

Japanese Contemporary Glass Art Exhibition, Onoda Sunpark, Yamaguchi, Japan
Years of Japanese Glass: From the Yayoi Period to the Present Day, Suntory Museum of Art, Tokyo and Osaka, Japan

2001

Beauty of Glass Exhibition, Himeji City Museum of Art, Hyogo, Japan
Second Prize, Wakaura Site Contest, Wakayama City, Wakayama, Japan
1st Japan Contemporary Glass Art Exhibition in Onoda, Onoda City Kirara Koryukan, Yamaguchi, Japan

2005

Nishinaka Yukito Glass Exhibition, Honen-in Temple, Kyoto, Japan

2006

Kinokuni Achievemen Award, Wakayama Culture and Arts Center, Wakayama, Japan

2008

Culture Achievement Award, Wakayama City, Wakayama, Japan

2010

Special Jury Prize, Blamagurankai 8, Sapporo Art Park Craft Hall, Hokkaido, Japan

2011

Okuwa Culture Achievement Award, Okuwa Educational and Cultural Promotion Foundation, Wakayama, Japan

2012

5th The Exhibition of Contemporary Glass Koganezaki 2012, Koganezaki Crystal Park, Shizuoka, Japan

2014

Nishinaka Yukito Exhibition, Tamesaburo Memorial Museum in Furukawa Art Museum, Aichi, Japan

2016

Nishinaka Yukito Exhibition, Daikokuya, Tochigi, Japan

2017

3rd Triennale of Kogei in Kanazawa, 21st Century Museum of Contemporary Art, Kanazawa, Ishikawa, Japan
Nishinaka Yukito: Eternity Captured in a Moment - Stepping into a Meditative Space of Glass Art, Nihonbashi Takashimaya, Tokyo, Japan
Naruto Art Gate Illumination 2017, Naruto City Muyagawa Shinsui Park, Tokushima, Japan

2018 -19

Japon-Japonismes, Objets inspirés 1867-2018, Musée des Arts Décoratifs, Paris, France

2019

Living Kogei: Contemporary Japanese Craft from The Ise Collection, University Museum and Art Gallery, The University of Hong Kong, Hong Kong
Permanent installation, a new-age zen garden Eternal Affinity using recycled glass, Honen-in Temple, Kyoto, Japan

2020

Artist in residence project Creators Work-ation 2020; organized by Ise City, Mie, Japan

Public and Private Collections :

Victoria & Albert Museum, UK
Ashmolean Museum Oxford, UK
Fundacion Centro Nacional del Vidrio, Segovia, Spain
Toyama Glass Art Museum, Japan
Sapporo Art Park Craft Hall, Japan
Satsuma Glass Museum, Japan
Lahti University of Applied Sciences, Finland
Yamaha Music Foundation, Japan
Joryuji Temple, Japan
Daikokuya Collection, Japan
Musée Cernuschi, France